A natural spectacle in the Odle range in Val di Funes, part of the Dolomites, a UNESCO world heritage site
There where mind and soul once again gain their balance, the tired guest seeking leisure time can relax on our lounge chairs and admire the fantastic natural spectacle of the Odle range of the Dolomites, so close that they can be touched, and enjoy the wonderful peacefulness of the Funes mountains, the pure air and the hopefully good weather. These are the ingredients that will make your holiday at Malga Geisler an unforgettable experience, a natural spectacle that you must not miss. And the photos speak for themselves …
In 2009, the Dolomites were proclaimed a UNESCO world heritage site, the highest recognition a natural site can receive. The Dolomites have been classified as unique and their landscapes and their geomorphological and geological features have been claimed as worthy of being preserved for posterity. The inscription of the Dolomites in the list of UNESCO world heritage sites is a very important event and calls for total commitment in preserving them and in applying sustainable development practices in this extraordinary Alpine region. Malga Geisler stands in the heart of the Dolomites and offers a grandiose 360° view of this fantastic mountain area.
Malga Geisler – A family enterprise that works with passion
We of the Runggatscher family, Laura and Gerhard and our children and staff, do our very best to offer our guests top-quality comfort. We run our business with enthusiasm, love and commitment and we are convinced that when guests come and see us and our Malga Geisler they quickly perceive the dedication and passion that we put in our work.
We are completely at your service for any requests and desires, and we will do our utmost to make sure you fully enjoy your stay in our mountain hut in South Tyrol.
Adventure for our smaller guests – Having fun in the mountains
We have for our 'tiny' guests a really nice playground, a table especially for them, a special children's menu and a large meadow in which they can play and have fun, with lots of surprises. Sit comfortably on our wide terrace and watch your children play safely, so that your stay can become a holiday for the whole family.
Acclaim – Confirmation of our daily commitment.
Most beautiful mountain hut of South Tyrol 2012 - 3rd place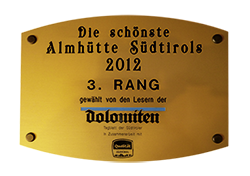 Accademia Italiana della cucina