.. how to reach our mountain hut in South Tyrol at 1,996 m a.s.l.
Malga Geisler can be reached on foot on the trekking trails from Funes (Ranui, Malga Zannes) or from Val Gardena/Resciesa. Our mountain hut is also easily reached on a bicycle, a mountain bike or pushing a pushchair. Come and discover Malga Geisler, the preferred venue of families and groups. On request we can also send you a minibus that will comfortably bring you to Malga Geisler: the ideal way to participate in parties and events and for the less mobile.
We look forward to welcoming you at our typical mountain hut in Funes, in South Tyrol.
Contacts:
Geisleralm - Villnöss
Familie Runggatscher
St. Johann 2
39040 Villnöss
Mobile (+39) 333 756 90 29
Tel.+Fax (+39) 0472 840 506
E-Mail: This email address is being protected from spambots. You need JavaScript enabled to view it.
MwSt-Nr. 01313990218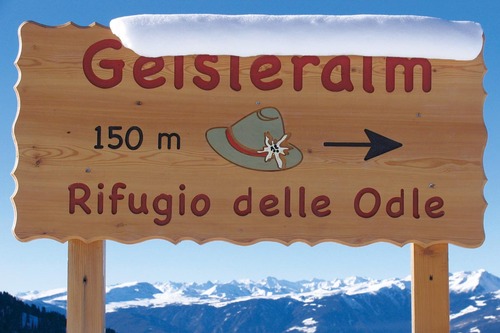 Malga Geisler - Taxi Service
Geisler Reisen | +39 335 584 0021
Taxi Paul | +39 347 145 1217
Approache and Location Malga Geisler: